The roughness and toughness of the tactical boots are mostly liked by the people who work in the military. But nowadays, we can see many people using these tactical footwears for hiking or trekking purposes. This might raise a question in your mind: are these boots a good option for hiking?
Are you planning to go for a hike but confused about which shoes to wear? This article will tell you the difference between typical hiking shoes and tactical footwears. Let us quickly check out what precisely tactical shoes are and if they are suitable for hiking or not.
MILITARY/ARMY BOOTS VS. TYPICAL HIKING BOOTS
Whenever you think of purchasing shoes for treks, hikes, or backpacking, it is common to get confused between army boots and traditional hiking shoes. You will have to do a lot of research before choosing the right one for you. By knowing the details of each shoe, you can easily select the footwears that serve your requirements the best. Read more to get some valuable information.
Military/Combat/Army boots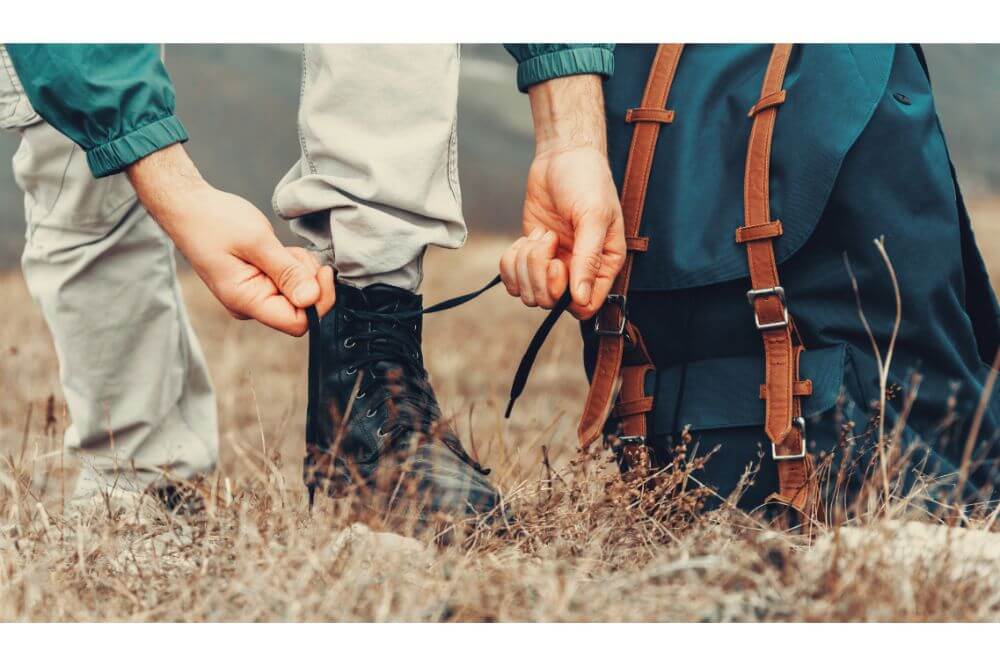 Tactical boots are generally linked with military persons. But any of you can use this shoe if you want. You don't need to work in the army to wear these boots. Whether you have to travel through a challenging path or work with some construction company, combat footwears are very effective.
People love these shoes for their versatility, durability, toughness, and flexibility. You will find a lot of variety in these boots, but you need to find something that goes well with the environment you want to use them.
For example, if you require shoes for a construction job, choose the one with a rugged exterior surface. But if you're going to use it for hiking purposes, you need to have something that gives you full support and is flexible. Most army boots are not considered adequate as hiking shoes for traveling long distances.
Traditional/Common hiking shoes
Hiking shoes are the first to strike your mind whenever you think of purchasing any footwear for long-distance hikes. Most of them have got a rugged appearance, which goes very well with the theme of trekking or backpacking.
They are designed to provide grip, balance, and stability to your feet on rough or uneven paths. The thick soles under them are perfect for protecting you from ankle injuries.
Most hiking shoes are designed to protect your feet from any weather conditions. So, even if there is snow, mud, or water in your path, stay stress-free because these boots will provide safety to your feet during backpacking or trekking.
Are tactical boots suitable for hiking?
The needs and requirements of every person are different. People choose their shoes according to the environment they are going trekking. You can hike in military boots, no doubt, but they are not mainly designed for this purpose. Hiking boots are specially designed to face any weather conditions and are flexible.
Whenever people wear their military shoes for hiking or backpacking, they need to add extra soles. It is required to provide comfort to the feet. You can also wear hiking socks to add more cushioning to your feet. It will also help in providing water resistance and breathability.
While buying any military shoes, make sure that you are buying the original one and not just something designed like that. You can easily find many copies in the market that look like the military ones but aren't made with the same material and standard.
If you are going to hike in a place where weather conditions can change anytime, then walking with combat boots is not a good option. They are not as durable, supportive, and flexible as other hiking shoes specially designed for a bad environment.
ADVANTAGES OF TACTICAL BOOTS
Provides support: Soldiers have to carry heavy equipment and backpacks with them. So, they need to wear footwear that can handle that weight. Tactical boots offer fantastic support to them while carrying heavy loads during their missions.
Durable: Do you know that it can last up to years if you take care of your tactical footwear? Even if you have worn them in a terrible environment, they can survive if you properly care for them. In this way, you can save your money by not purchasing the new footwear for you instead of taking proper care of what you already have.
DISADVANTAGES OF TACTICAL BOOTS
Not specifically designed for backpacking purpose: This is true that they are not intended for this specific purpose of trekking or hiking. Sometimes people have different requirements, which cannot be fulfilled with these shoes.
Are not very comfortable to wear: These may not work up to the mark while you are going for a hike. They are generally made with stiff and inflexible soles, which means they are not suitable to provide comfort to your feet. Still, if you want to use them, you have to add an extra solely to cushioning. Otherwise, it will be difficult for you to cover long distances.
They are generally heavy: Keeping in mind that they are not designed for hiking but for military purposes, they are usually severe. By wearing them on trekking, you will feel extreme fatigue and not enjoy the journey. So, choose the shoes that provide you perfect grip, support, and comfort.
TO SUM UP
Tactical footwear can provide support but not other hiking footwear. They are also heavy, whereas, for hiking, you need something lightweight because you already carry the weight of your backpack with you. We will highly recommend you not to go by the looks or appearance of the footwear but by their comfort and other features.