The 90s were some of the best years for music, fashion and movies. The Spice Girls were embracing Girl Power, Friends was never off our screens and some of the trends from back then are still so iconic today. Yes, we know there were some questionable style choices back in the day, but whether you like it or not, a lot of the trends are still relevant, particularly when it comes to hairstyles.
A lot of celebrities are rocking the 90s' look with the most famous haircuts from that time visible at allthingshair.com, and it's no surprise – it can add a playful, retro touch to your looks. And we're not just talking about Miley Cyrus' space buns at the VMA's in 2013! Check out our list to discover the best 90s'-inspired hairstyles to try in the present day.
1. Space Buns
One of the most iconic hairstyles inspired by the 90s' era is space buns. They're so easy to do, and seriously remind us of the Spice Girls – think Baby Spice with the fluffy hair ties. Now, in 2023, they're more stylish than ever. Create a pigtail on either side of your head, and twist the pigtails around their base to create little buns on each side of the head. Secure with your favorite scrunchies and voilà! A festival-ready look that adds a touch of playfulness to your look!
2. The Rachel
Rachel Green was one iconic character in Friends – not only for her effortless style but also for her unforgettable hairstyle. We loved her choppy layers and mid-length hair that she rocked for most of the series, and it's so easy to achieve. There's a reason why 20 years on, even Hollywood's rich and famous are still replicating the look. Just blow dry your hair so the ends go inwards to frame your face. You'll feel like a fashionista in no time!
3. The Blunt Lob
Blunt bobs have been in for a while, but the blunt lob is perfect for those of you not ready to take the plunge. Remember Britney Spears' blunt lob in the 90s'? The front strands have been layered to frame her face and her lob has been cut to shoulder length for a feminine and sweet look. It's very girl-next-door and we're all for it!
4. Gwen Stefani's Pink Hair
Gwen Stefani was certainly a hair icon back in the 90s. Before her famous platinum blonde locks, in her No Doubt days, Stefani rocked a bright pink look. Her electric pink locks were cut into choppy layers that were slightly curled for more volume. Along with her androgynous style, she made it look so grungy – who said pink had to be ultra-girly?
5. The Messy Bun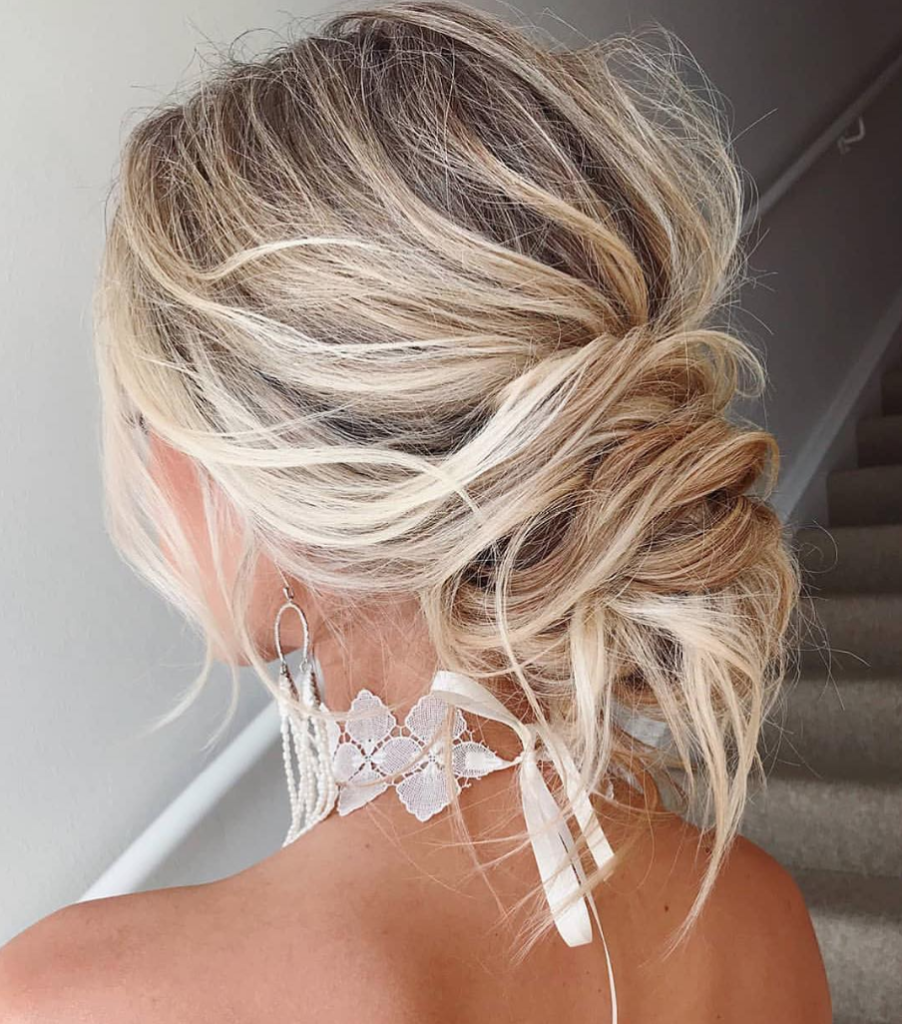 The messy bun became stylish in the 90s – many Hollywood actresses were rocking the look on the red carpet with face-framing strands. Gwyneth Paltrow is one of the fans of the hairstyle. It looks effortlessly chic and is so easy to do yourself. It's the perfect look for those of you who aren't used to tying their hair up!
6. Crimped Hair
Remember when you were little, your parents probably crimped your hair? Well, that look you'd ask them to do for your friend's birthday is now back on trend. Even celebrity influencers such as Caroline Receveur have released their own crimping tools. We love how it can give serious mermaid vibes and give you instant curls without having to go to the effort of using a curling wand. It's the perfect way of adding texture to your look.
7. Sleek Half-Up Ponytail
It's the look most pop bands had – the sleek half-up ponytail. It is ideal for keeping your hair out of the way in an elegant manner. Use a serum to smoothen your hair and avoid flyaways before trying out the hairstyle. Then, sweep the top layers of your hair, bangs included, into a ponytail whilst leaving the bottom layers down. The look is now even a firm favorite in fashion shows!
8. Sleek Middle Parting
Sleek middle partings were very popular in the 90s' and still are today. If you love to show off your long locks, then this is the way to do it! To add a hint of wave to the ends to help them flick up, use a round brush to flick the waves outwards. We recommend teaming with grungy eye makeup for a truly 90s look!
9. Choppy Pixie
The pixie started to make its mark in the 90s, but really knew fame in the early Noughties. The style isn't going away any time soon, so make the most of the opportunity to embrace the look, particularly if you already have short hair! However, the first to rock the tomboyish look were Halle Berry and Winona Ryder. Spikey pixies are easy to maintain, and you can add texture with a texture paste run through the ends. You'll have bold and fierce hair in a flash!
10. Hair Streaks
Now a look embraced by E-Girls, hair streaks were all the rage in the 90s'. Choose a bold color for the front strands of your hair – electric blue and hot pink are perfect for an eclectic 90s' vibe. They are edgy and bold, and are also the perfect alternative if you don't dare color the whole of your hair. Make sure to use hair products especially for colored hair to make sure your bright shade sticks around for a long time all whilst protecting your hair!
11. The High Ponytail
The high ponytail has been our favorite for years, but did you know it is a 90s'-inspired look? Tyra Banks loved to rock a sleek, shiny high ponytail back in the day, and even in 2023, we are seriously envious! As the go-to hairstyle for 90s' supermodels, we can't think of a better hairstyle to rock this year. Create a high ponytail and leave a strand to wrap around the base for a more natural look. Curl the end of your ponytail with a large curling iron for a more voluminous look. Add hair spray to secure the look, and you too are now ready to rock the red carpet!