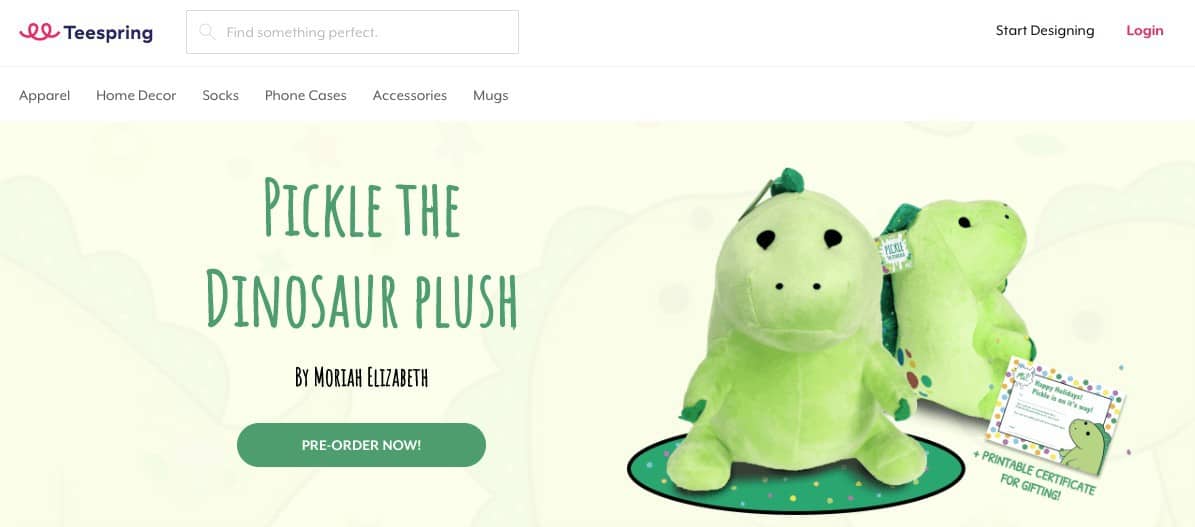 What is Teespring and How do I start selling on Teespring?
In this article. I'm going to explain briefly. What is Teespring is about basically how it works but more importantly here. I just want to show you a couple of things. I was searching around on Teespring. I just put Teespring in Google and I found a link under TechCrunch and you can see that Teespring in January 1/16 or 2014 received an investment by n this is Andreessen Horowitz. It's a huge big.
The firm invested twenty million dollars into the company. In fact, I think that's the second apparel company actually invested in so you can see that apparel e-commerce is a booming thing right now in 2014 and has been for the last couple of years. Now that Teespring sites like Teespring has been popping up. So I just want to show you that this is huge. In fact, there's a whole article here about how they invested twenty million dollars on TechCrunch.
It's quite interesting. Actually how Teespring came about it's kind of neat help that the two guys don't own the company.
They were trying to save a bar right here to try to save a bar from closing down like a little Pub or whatever and he created this shirt. And in this campaign, it looked like this. I think the actual original shirt camping a still online somewhere. I don't recall where it is.
But after they did that they sold a whole whack a lot of shirts using their little custom kind of sales page like this and they got tons and tons of emails from other companies that wanted to have the ability to do this. So what is Teespring did was harnessed that success in that little tiny test for saving a bar into this massive company that just got 20 million dollars in Investments.
It's quite amazing and it's a really good way to make money online as an online entrepreneur simply because you don't have to put any upfront costs for this business.
So with that said, let me just explain briefly what this is about.
So the idea is you can come to this site right now. Anybody can come. Right now and sign up for a free account. So you go to the login and you can just set up an account by clicking the new link there. Looks like it's taking a bit.
So you just click create a new campaign enter email and a password and boom you got an account. It's really that simple and the best part about this is you don't have any upfront costs. Meaning you don't have to like Warehouse the t-shirts. You don't have to ship any t-shirts. You don't have to do any customer support for your sales.
They basically take care of all of that for you. All you do is set up a page with your shirt and you send traffic to it and make sales there. Isn't a restriction because this is a crowdfunded apparel website.
The idea is you have to sell a minimum number of shirts before the actual shirt will get printed and delivered to your customers and you can Define what that minimum goal is and you can set it to a minimum of 10 shirts all the way up to I think anything you want like a thousand or something like that even more I never said it over 20. I usually do 20 or 50 shirts. A limit if you make it go a little higher you do earn a little bit more profit per shirt. I'll get into that just a second.
It's because I've been spending so much time working on this article and some software for what is Teespring sellers, but nevertheless, I always have a few in there making good money. And this one looks like it's going to catch on and be profitable but basically how it works is you coming and you click on new campaign.
And this is where you would select your shirt style. I usually only sell to I usually do the tag this T and the hoodie in the wintertime on the front end, but go back to the tee, traditionally the darker shirts usually work a little better.
So I like selecting the dark black or the navy blue.
So let's say you choose a navy blue and then you can upload your art or you can actually use our built-in. Library or just add some text yourself so we can say this is my shirt.
I just want to show you sort of what's involved. I'm not going to talk about shirt design or anything like that. I'll do that in a later article. You can see the base cost for 50 shirts.
So if you set your goal at 50 shirts, this is how much profit you're going to make if you sell it at $17.
I usually sell it around 19 to 20 bucks.
No, it's a good thing. They're 19.50 or music usually around 19.52 21.50. I've tried 24.50 that works as well. So it all depends on your design and I usually set this at 20 because I usually like them tipping.
So you have to sell at least 20 shirts in order to get paid and there are new options down there. Now. You can actually add all these different shirts if you want to add an I usually like adding a hoodie and a woman's tea.
And then as well as a tank top and you can see the profit you're getting so if you want to keep your profit even so you just want to add another dollar there.
Let me about the same but the same add one more dollar there. That's all you usually do. Just make sure the prophets all the same. You can even add more products that are not listed there.
But most of the case those are the designs I stick with but I'll get into this later. I just want to show it sort of the idea of this and so if I sell 20 shirts, then I'll get paid the money in the shirts will be shipped. Now. If I do not sell 20 shirts for this campaign, then the product is actually not shipped in the concern customers. Their credit cards are not charged.
That's how it works. If you go to next, this is where you enter your title then your description here.
I'll get it all that stuff later. But you do that and you set your time limit. So all the campaign's on Teespring will expire and so you have an option three days to 21 days.
I usually stick with 7 days 5 days or 3 days. I found that sometimes you do something that I call a 72-hour sale that works too. That's technically 3 days.
Most of the time I just do seven so we can do a name my shirt page and it tells you right away whether or not it's taken. It's not then you agree to go ahead and launch your campaign, but I'll just go ahead and hit preview and we can quickly see what it would look like.
This is basically what it would look like if we launched it here. It's taking a bit for the image of coming up. There we go. That's basically it for what is Teespring is all about is a pretty simple concept. Read more about the Teespring alternative.
Currently, this is what this campaign is, so if I sell some more if I sell 8 more shirts then it's going to be printed and delivered to the customers and they have a nice little timer down here now that adds more scarcity and basically this is it I don't put much into the description and this design.