The gaming industry is always introducing innovative and game-friendly devices. The popular multiplayer games are competitive. Gamers are always looking for the best gaming accessories. They need these to provide them with an edge when gaming online. A wireless keyboard and mouse is a popular choice among gamers.
The first-person shooter games need a gaming keyboard and mouse. These two devices play vital roles in boosting your gameplay. Sometimes, a gamer does not know if a wired or wireless keyboard is better. The choice may depend on many factors worth analyzing.
The type of games and controls that affect the game depend on the keyboard, for instance. The gamers often search online markets for the products that are best for gaming. There are many good wired and wireless keyboards to choose from. Many keyboards have ergonomic keys with RGB lighting. Some have macro keys and faster scroll rates. All these specs can confuse a gamer on what to select for his gaming needs.
So, which type of keyboard is better? What are the features of a wireless keyboard and a wired keyboard? Which one should I purchase? These questions need answering for an ambitious gamer. Thus, we will analyze the perks and advice on which one to pick.
The wireless keyboard for gaming
The wireless keyboard and mouse are a popular choice not only among gamers but also among PC users. A wireless keyboard and mouse have no cords or wires. This is a big plus because gamers do not like wires to interfere with their gameplay. The packs of cords and wires can disturb you during competitive games online. In addition, a few of best Tales games and many popular 3D games are available online.
Anyone who owns a personal computer recognizes how arduous it is to place the cords of various devices. Wireless technology is new and getting better with the latest updates. The manufacturers are competing with each other to provide quality products. All of this favors an ambitious gamer who loves gaming accessories.
Features of a wireless keyboard and mouse for gaming?
The reason for getting the best wireless gaming keyboard is its features. A wireless keyboard presents a lot of gaming options. Gamers need fast reaction speeds from a keyboard and a mouse. All gaming accessories come with low latency rates. This is for the gamers to gain an edge over their rivals in a game.
The latest technology provides a reliable wireless connection to lessen the latency. No matter how many times you press the keys, your avatar will react quicker. However, wireless keyboards use batteries to run. The batteries could drain fast, so it is better to keep a backup. You can keep extra charged batteries for your utility.
How to buy a wireless keyboard and mouse?
Buying a gaming wireless keyboard and mouse and RevExpo's buyer guide help to choose online is straightforward. You first have to select the one that fits your gaming needs. The types of games will determine what features you need. The first person shooting games require different features than a strategy game. For a strategy game, you will need a gaming keyboard that provides macro keys.
Thus, pick the one with as many macro keys as it can offer. RGB lighting is a great feature to have. The cluster of lights makes your keyboard immaculate.
This feature grants you quick access to the keys you demand during gaming moments. For first-person shooting games, you need to have a keyboard with a quick response time. Some keyboards are custom built for popular first-person shooting games like PUBG. You can buy these online with ease.
The wired gaming keyboard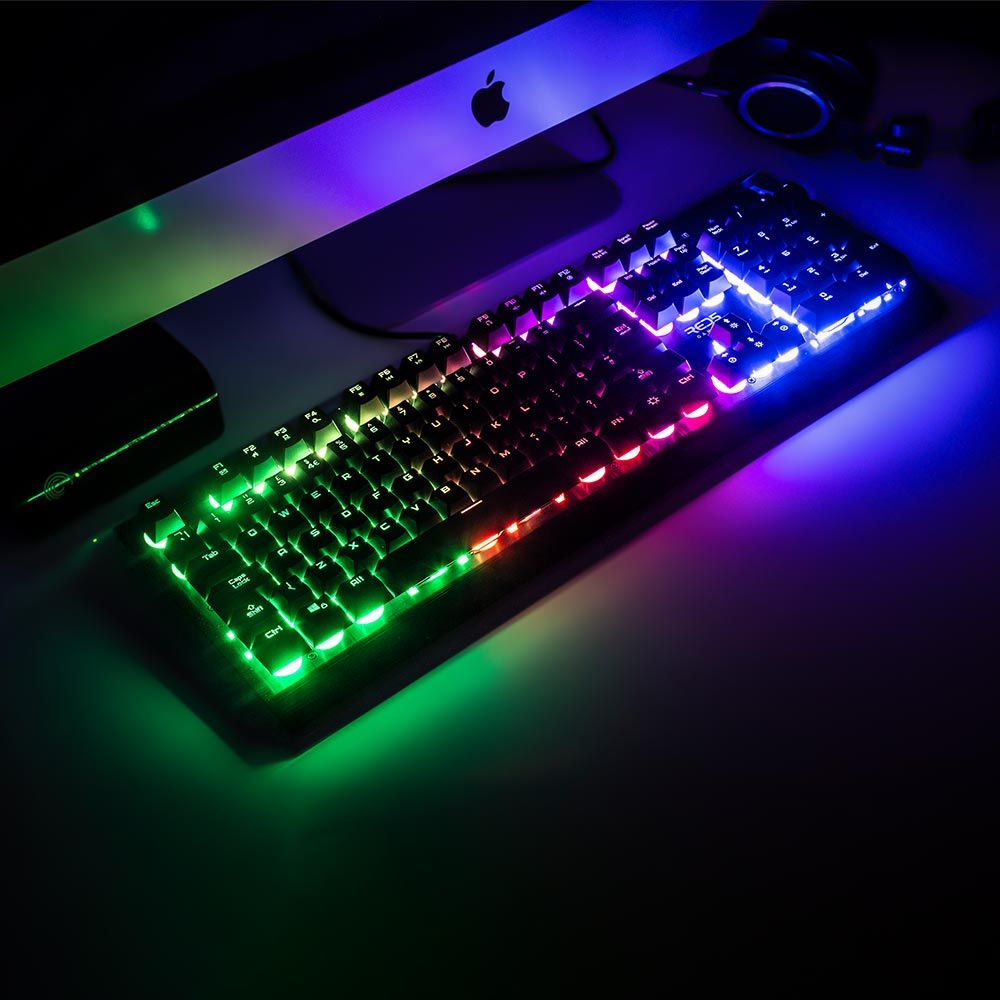 The gamers select the classic gaming keyboards with wires because of their non-interference issue. No matter how better connections a wireless keyboard uses, the gamers still rely on a wired one. The wireless keyboard and mouse use a USB receiver.
The receiver may present latency issues because of interference. This results in a few lags for gamers. Gamers need to make split-second decisions during games because of tough competition. They do not like any sorts of disturbances. Thus, they are confident in using a wired keyboard.
Features of a wired keyboard and mouse
Not only a wired keyboard offers a reliable latency rate, but also many other gaming traits. The wired keyboard comes with almost the same features as the wireless one. The various wired keyboards offer ergonomic style keys for easy usage. Macro keys and higher response times for a more satisfying gaming experience.
The wire it carries is a bit of hassle, but the gamers still use wired keyboards. The reliability of a wired keyboard compels them to use it. There is no battery problem, as well. A wired keyboard needs no batteries of any type.
How to buy a wired keyboard and mouse for gaming?
There are a lot of gaming keyboards available at online stores. You can compare the features and characteristics of each you find in the listings. Features like macro keys and low latency rates are worth considering. These come in many kinds of different comfort designs. Also, RGB lights and other gaming-friendly functions are a bonus with gaming keyboards.
You can select the wired keyboard that is lowest in price and full of gaming highlights. The games that you play will also influence the decision between a wired or wireless keyboard. Whichever gaming keyboard you select, it must be comfortable to use.
Conclusion
The gamers buy wireless keyboard and mouse because it has no wires. Also, the wireless keyboard provides many top-notch gaming functions. The keys are programmable using macro indicators. The latency rates are good but not guaranteed. Therefore, some gamers prefer using wired keyboards over wireless ones.
Wired gaming keyboards also have the same superior gaming traits. They can be lower in price, but the wires still annoy. The latest technology is making the latency rate higher in wireless gaming options. The price of a wireless keyboard and mouse might be high. However, the benefits compel gamers to buy it.